Climate Action Awards 2022-2023
Second edition of the Life Terra Climate Action awards
In recognition of the efforts and significant contributions made by individuals towards climate action within the Life Terra project, we are happy to hold the second edition of the Life Terra Climate Awards 2022-2023. The winners have not only demonstrated their commitment to the project but have also achieved remarkable milestones in their quest for a greener future.
We are proud to introduce you to the winners of this edition: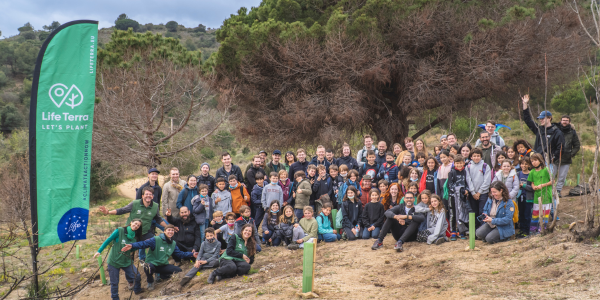 1. Escola Dolors Monserdà Santapau, for the Most Active School Planting
The public school of Barcelona, Escola Dolors Monserdà Santapau, participated in two planting events where more than 50 kids planted 400 trees and shrubs to reforest the area of the Monestir de St. Jeroni de la Murtra, Tiana (Barcelona). With these actions, the students and teachers supported the mission of the Life Terra project while learning about the environment and its importance to fight against climate change.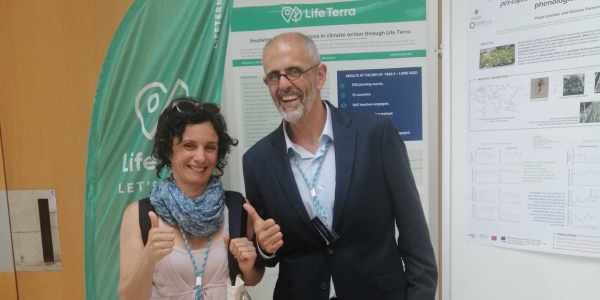 2. Inês Domingues, as the Most Involved Terra Leader
Terra Leaders are Life Terra's planting events volunteers. And Inês Domingues has the perfect qualities to be one of them! She has the professional background, as a Post-doc Researcher at the University of Aveiro specialised in Ecotoxicology, Environmental sustainability and climate change; land availability, offering her own land to the project to plant trees; and, last but not least, an activist spirit to encourage those around her to take climate action.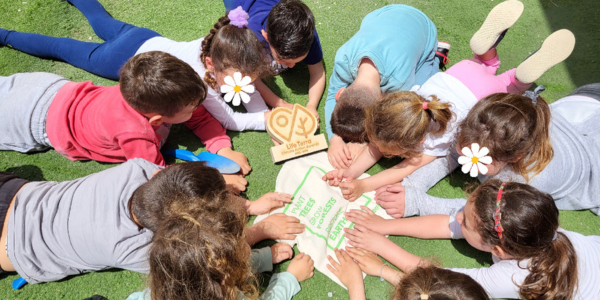 3. 1st & 2nd Kindergarten of Palaiochora Chania,  as the Most Involved Terra Mission Teachers
The Kindergarten of Palaichora (Greece) participated in our first Terra Mission Challenge competition launched within the STEM Discovery Campaign 2022 held by Scientix under the motto STEM FOR ALL. Thanks to their learning scenario "Planting in the schoolyard", children had the opportunity to be in nature and learn about plants, herbs, flowers, and also vegetables. This inspirational work won the Terra Mission Challenge 2022 and now, as educating the future generations is one of our pillars, we want to acknowledge the school's effort and commitment with the Life Terra Climate Action Awards!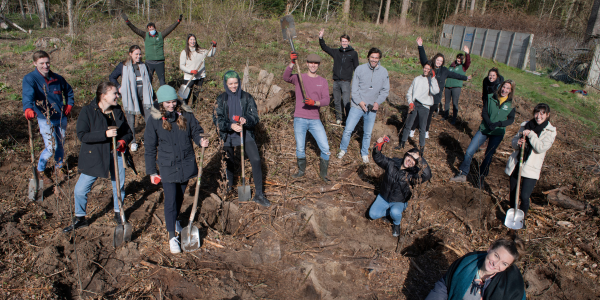 4. Anna Rysenbry from Adyen, as the Most Impactful Business Partner
As the Sustainable Development Manager at Adyen, Anna promotes sustainable practices within her company and involves employees in taking climate action. She launched an impactful volunteering initiative in honour of World Planting Day where teams from different European offices (Amsterdam, Berlin, London and Madrid) were given the opportunity to act locally and, together, make an impact on a European level. In total 5,000 trees are planted to support local reforestation projects. A truly impactful action across Europe!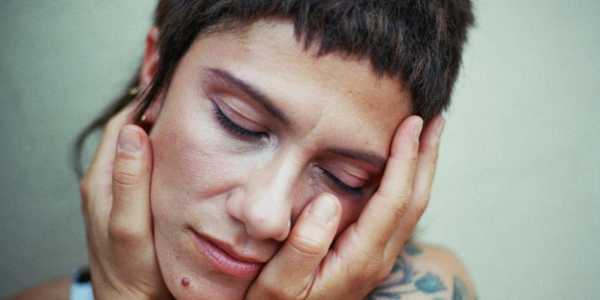 5. Elisa Toffoli, for the Most Impactful Community Planting
Elisa Toffoli is a worldwide famous Italian singer, with a strong commitment to sustainability. Last year, during her tour, the "Music For The Planet" project came to life to support climate action across all regions in Italy next to Legambiente, one of Life Terra's project beneficiaries. This did not only help to raise awareness among the population but also helped the Life Terra project generate a great impact in the press in Italy. Through her music, her commitment to the environment and planting action, more people are now aware of the need for urgent climate action!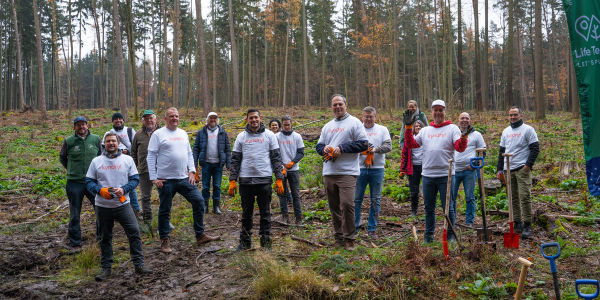 6. Jost Arnold, as the Most Supportive Landowner
With his help, Life Terra was able to realise the first company planting event in Germany with Kyndryl in 2021 and invited the company EY to the forest the following year. Together we have reforested around 9 hectares with 36,500 tree seedlings. His reliability, positive energy, and openness to projects that involve the private sector help us greatly in fulfilling our mission of whole-of-society forest restoration in Europe. We hope to continue growing together in the future!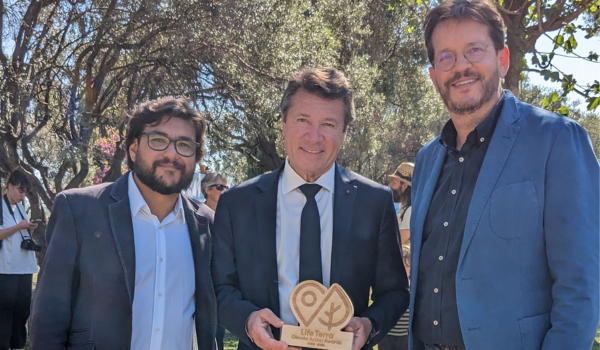 7. Christian Estrosi, as the Most Involved Public Sector Representative
The city of Nice has made an important drive to become even more green and sustainable, committing to plant 1 tree per inhabitant. Life Terra has adhered to this beautiful initiative and donated 10,000 trees to the campaign, including a Miyawaki forest in Square Victoria to transform a former car park into a green spot. This last project was the first one to be certified and Mr. Christian Estrosi received the first Life Terra's Carbon Removal credit for it.
The 5 citizen tree-planting events carried out during the season were a total success and they lead to a future collaboration for the next season with 25,000 more trees. This could have only been achieved thanks to the involvement and commitment of the Municipality. Thank you!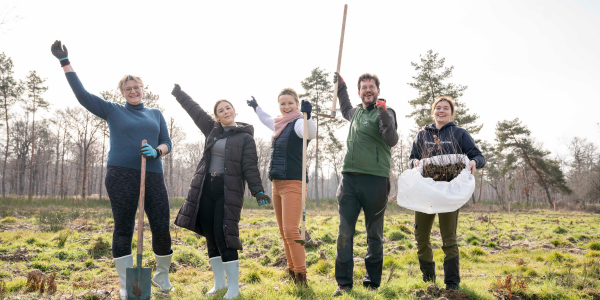 8. ClimatePartner, as the Most Impactful Organisation
ClimatePartner offers companies climate action solutions and strategies and enables them to take climate action. Together, we teamed up in Chambord (France) and made clients across Europe more aware of land degradation and engaged them in concrete climate action by planting several thousand trees locally with their employees. In addition, the climate action expert already has plans to plant another thousand trees in the Netherlands. This not only helps to raise awareness and generates a positive impact but hopefully, it will inspire other stakeholders to take a step further in fighting against climate change. Together we are stronger!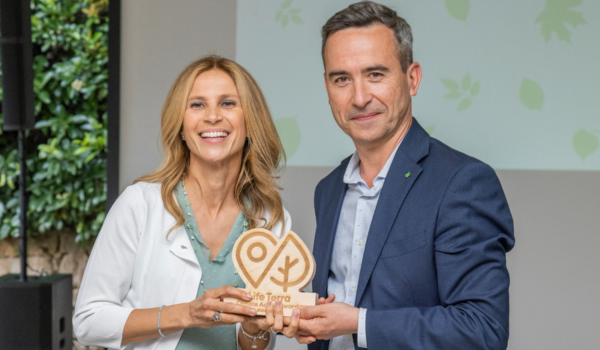 9. AzzeroCO2, as the Most Committed Tree Planting Partner
AzzeroCO2 is a sustainability and energy consultancy company that offers customized solutions to companies. This year, their involvement in developing tree-planting projects across Italy has been a great success and we are glad your efforts give additional visibility to the Life Terra mission in the Italian market.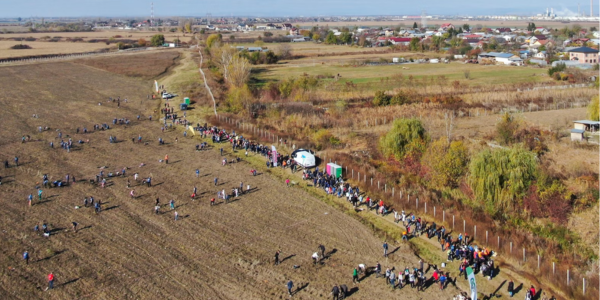 10. Plantăm Fapte Bune, for the Biggest Citizen Tree Planting Event
Plantăm Fapte Bune is Romania's biggest tree-planting NGO. Their involvement in the "Romania Plants for Tomorrow" forestation campaign involving thousands of citizens and the collaboration with the Life Terra project has given us the opportunity to significantly grow our number of planted and tagged trees; and to gain visibility on a national and regional scale. We hope to extend this collaboration in the upcoming planting season and that it will serve as an example for other tree-planting initiatives across Europe.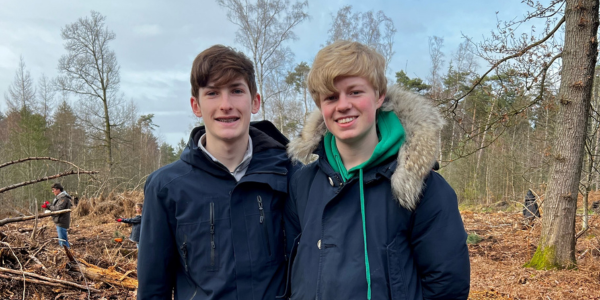 11. Ethan Chassin, for the Youth Award
For his Bar Mitswa, Ethan didn't want a present for himself, but a present for all generations to come. This is why he set up a crowdfunding to raise money to plant trees. And he succeeded! Thanks to him, future generations will enjoy the benefits of more than 1,500 new trees in the beautiful estate of Larenberg and Pijnenburg. This beautiful initiative that he carried out when he was just 13 years old, inspired the whole Life Terra team and also will help to raise awareness among young people to fight against climate change. We know it can't be done without the youth!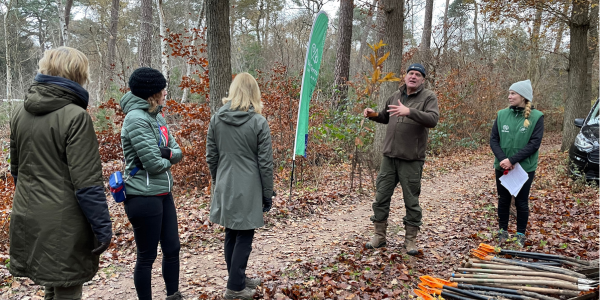 12. Gerard Koopmans from Bosgroepen, as the Most Most Engaged Tree Planting Expert
Thanks to Gerard and Bosgroepen, we have restored private estates areas in The Netherlands, creating new forests and also to climate-proof existing forests where needed, contributing to fighting against pests/diseases such as bark beetle or ash dieback. Gerard has supported the Life Terra activities since the beginning and has continued to do so during all planting seasons, providing his network but also tree knowledge and experience. Thank you for your commitment and support
Each winner received an FSC wooden award and a Life Terra merchandise package. We are extremely grateful for all their effort and commitment to taking climate action and supporting this season's activities. We hope to continue celebrating these awards annually recognising our most involved partners.
Congratulations to all the winners and let's plant together!